Gates – Commissioned work for the  Russian ballet-star and choreographer Vladimir Adzhamov
Vladimir Adzhamov was solo dancer at the Mikhailovsky Theater in St.Petersburg and is "honored artist of Russia".
He worked with world-renown choreographers like O. Vinogadov, N.Boiarchikov, G.Alexidze N.Dolgushin, B.Eifman, L.Lebedev, G.Koftun, V.Karelin, E.Smirnov. He also danced for the Mariinsky Theatre.
He got a reward as "the best dancer of Russia 1993/94". Today he is working as choreographer in St.Petersburg.
Richard Deutsch – composition, alto-clarinet, melodica, guitar, electronics, Violin – Valerija Kildareva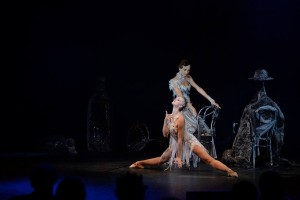 All photos (c) Maria_Moroz
Gates (excerpts)